DJ: Paco Valiente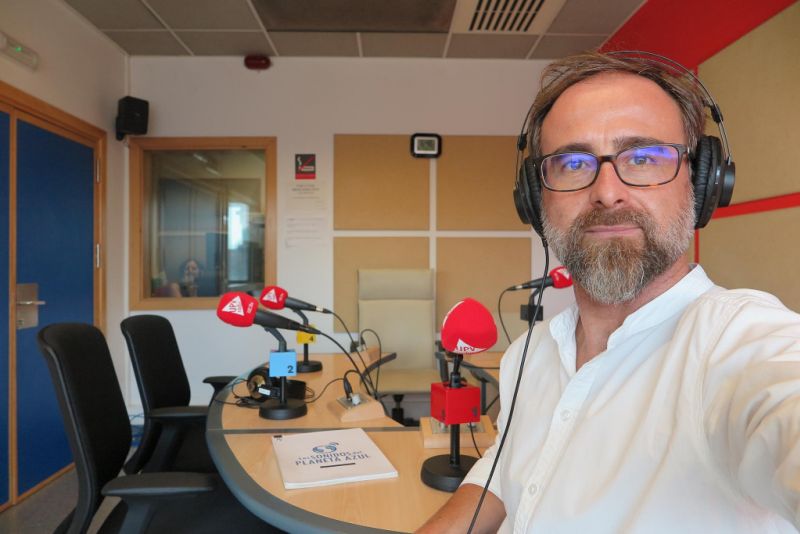 Paco Valiente (València, 1969) presents Los Sonidos del Planeta Azul, specialising in world music since January 2001.
The programme is broadcast on UPV Ràdio, Tuesdays and Thursdays from 4pm onValència 102.5 FM, web streaming through upv.radio.es and upv comunica app, and podcasts are afterwards made available on Ivoox, iTunes and Spotify. Since 2021 it has also been rebroadcast in Berlin on multicult.fm, Wednesdays and Fridays from11 pm.
A music chronicler by vocation, conviction and profession, he does radio, writes and disseminates contemporary popular music in a broad, unprejudicedsense and withan open, diverse and Cosmopolitan perspective.
Since 2006 he has been content director and editor of the specialised portal www.lossonidosdelplanetaazul.com.

He has collaborated in radio media such as Cadena Ser in A vivir, directed by Lourdes Lancho, in the 2017 and 2018 summerseason, and has signed dozens of thematic sessions for the online radio station specialising in Afro-Latinmusic, Radio Gladys Palmera.
He has published articles in specialised magazines such as Batonga!, Ritmos del Mundo, Interfolk, Estación TierraorBeat Valencia. Also in cultural magazines such as Ateneaglam and, in the press, for the newspaper Levante-EMV.
He offers conferences and participates in round tables and disco-forums related to roots music from the Mediterraneanarea.
Since 2006 he has beeninvited as a DJ in concerts, series, festivals and socio-cultural events as a specialist in ethnicrhythms, world and Mediterraneanmusic.
In the nineties he studied at th eUniversity of Valencia and graduated as a Laboratory Technician, although his profesional careerfor more tan two decades has focused exclusively on journalism, communication and the dissemination of popular music.
Los Sonidos del Planeta Azul (TheSounds of the Blue Planet)
'For restless minds and ears wanting to eat theworld'
Lonely Planet Magazine (November 2009)
More than 700 artists/groups have been interviewed ─until January 2022─, among them some of the greatest figures of world music: Cañizares, Diego El Cigala, Eliseo Parra, Fanfare Ciocarlia, Habib Koité, Kepa Junkera, Lila Downs, Lokua Kanza, Los Amigos Invisibles, Maria del Mar Bonet, Mariza, Mercan Dede, Miguel Poveda, Misia, Pablo Milanés, Petrona Martínez, Rosa Pasos, Sargento García, Savina Yannatou, Seu Jorge, Tiken Jah Fakoly or Yasmin Levy.
Recorded in the programme's archiveare the voices of great musicians who passed away, such as Miguel Angá Diaz, Andy Palacio, Orlando Cachaito López, Jose Antonio Ramos, Enrique Morente, Rim Banna, Waldemar Bastos, Eamonn Campbell/TheDubliners, Mory Kanté or Rachid Taha.
The programme has been present and has collaborated with specialised fair ssuch as Mercat de Música Viva (Vic, Barcelona), Fira Mediterrània (Manresa, Barcelona), Womex (Seville), Visa For Music (Rabat, Morocco), Babel Med Music (Marseille, France) or Exib Música (Évora, Portugal). It has covered a multitude of concerts and great festivals such as Pirineos Sur (Lanuza), La Mar de Músicas (Cartagena), Etnosur (Jaén), Womad Cáceres (Extremadura), Rototom (Benicàssim), Música al Castell de Dénia (Alicante), Timitar Festival (Agadir), Etnomusic (València), Música al Castell (Dénia, Alicante) or Sulayr Festival (Pampaneira, Granada).
Throughout its career, various media have highlighted the quality of the programme'scontents as well as its path, and have presented it as one of themost important Spanish radio shows dedicated to worldmusic .
E-mail: lossonidosdelplanetaazul@gmail.com