DJ: Jean-Marc Baehler
Radio Suisse C3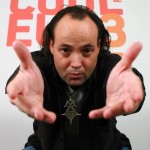 Radio program "REPUBLIK KALAKUTA"
Republik Kalakuta is magazine focused on the current affairs of World and Reggae music who searches out every week using classical distributional networks and the web, new world music sounds that combines technology with tradition.
WINDOW ON THE WORLD
The idea is to broadcast an interview every week, creating an event. We constantly try to react quickly at the hands of a new record coming out, no matter if it comes from Bogota, Lagos, Budapest or Recife… We get in contact with the artist by phone or email, always trying to give an impression of proximity with the world.
CINEMA OF THE WORLD
Depending on the current events, interviews with the directors and production of little reviews on movies (for example: Bamako or Sin Piedras) and links to 'black movies' or oriental movie festivals…
WEEKLY CHRONICLES, cooperation …
- Three weekly chronicles on Couleur 3's broadcast 'Métissages'.
- One weekly chronicle on La Première's broadcast 'Radio Paradiso'.(www.rsr.ch)
.
- Broadcasting of 'Republik Kalakuta' every Saturday on German Radio Funkhaus Europa from Berlin.
- Occasional cooperation with TSR (Télévision Suisse Romande) on TV Programs like 'Tapage Nocturne' or 'Musicomax'.
Exemple:
http://www.tsr.ch/video/divertissement/musicomax/#id=3112482
http://www.tsr.ch/video/emissions/tapage-nocturne/#id=3289063
Switzerland