DJ: Óscar Losada Castro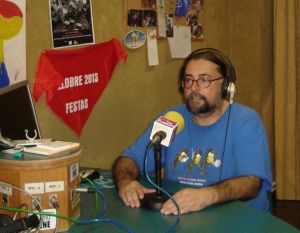 I am the journalist Oscar Losada. I was born in the city of A Coruña (GALICIA). I have developed my professional work in the cultural and sports journalism. Within the music department I specialize in world music. I started with the radio program "O regueiro das fadas" in tune Radiocadena, where I performed for three years. Subsequently I reported on roots music in the weekly A terra nosa and the newspapers El Correo Gallego and La Voz de Galicia. In 2000 I joined as freelance newborn newspaper La Opinion A Coruna, where I continue to write a weekly page of ethnic music.
Thirteen years ago created the Premios Opinión Folk Music Awards with the intention of prestige and reward outstanding Galician musicians of the year.
I have written two books on music: -"Alento de gaita. (O sopro dun pobo)", Toxosoutos (2000) provides an overview polyhedral what it means an instrument like bagpipes for a country. There is a Spanish language translation called "El sentir de un pueblo (Alma de gaita)". -"Crónica do folk Galego". Tris-Tram (2000). I am co-author with X.M. Estevez. A work that takes a historical review of 25 years of Galician folk music
I was editor, and author in some numbers, of the bi-annual musical revue Cartafolk centered performed by outstanding artists of great value from Galicia and international.
Now I work as an announcer and program director of "Raizame", emitted monday (17:30) and saturdays (14:00) at radio station called Radiofusión. Radiofusion is the common programmes made by EMUGA (Galician Municipal Radio Stations) with a local perspective and a plural vocation. They are thirteen public broadcasters participating in this programming. Raizame can also be heard on the website of the radio station: www.radiofusion.eu